"What we make is important to people. What's more important is that we make it right."
That was the moment that Mrs. Walker, a tailor of 40 years experience, crafted our first promise to our customers. We were standing in an adult clothing store in Orlando studying the stitching and quality of the off-the-rack clothing offered to lovers and the kink community as a whole and we knew that as a team we had the experience and skill to make it better.
We are shocked by the way that this industry seems to accept that quality can to be sacrificed for clothing that will "end up on the floor" and we have decided to fight back. We pride ourselves on our workmanship, from the choice of attractive durable materials to the strong yet elegant stitching techniques and the way we design around each of our customers individually. Our clothing won't fall apart after a few uses like the cheaper alternatives you find elsewhere.
The team behind Mister Pierre Fetish Fashion is bringing decades of design and tailoring experience to you to create a premium fit of clothing which will meet the needs and desires of your lifestyle.
Mister Pierre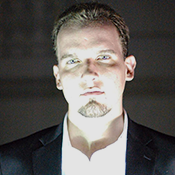 It's a cliché, I know, but it all started with a little black dress. I was the production administrator for a custom spandex clothing company by day and exploring the local kink community by night. One evening, a young dominatrix asked me to custom fit a piece for her for a special event. Our designer Diane and I pored over her hourglass measurements and selected the design elements and fabrics best suited to our first kink lifestyle fitting. In the end, the black spandex vinyl we chose molded to every inch of her, and our precision and skill were rewarded with the delight and fascination in her eyes.
Before that dress, we had specialized only in swimwear and costumes, but at that moment, Mister Pierre Fetish Fashion was born. We now apply our years of skill and experience to make someone's fantasy a custom-fit reality for any person, any body, and any lifestyle.
I'm Mister Pierre, and it's a pleasure to work with you.